Learning about the Filmfare awards pushed me back to my small Shahrukh obsession and I was googling pictures of him.

And I came across something I never expected.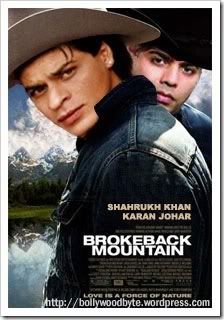 I was like "WTF?" That was just ... I don't even know who came up with this thing. There's this
website
that has remade Hollywood film covers with Bollywood actors.
But the rumors of Karan Johar and Shahrukh aren't exactly new. I mean, I still remember someone saying after high school graduation when i was hanging out with a friend, that Shahrukh and Karan had declared their gay love and moved to New York together.
But really ... this was hilarious.
I'm still shaking my head. I shouldn't laugh but it's just priceless.