I know I'm pushing it but it is still Day 1 here so this counts. For the first day, my submission is a Lois Lane Playlist! I thought it'd be fun. Some songs I couldn't upload so I linked to the YouTube video.

Enjoy!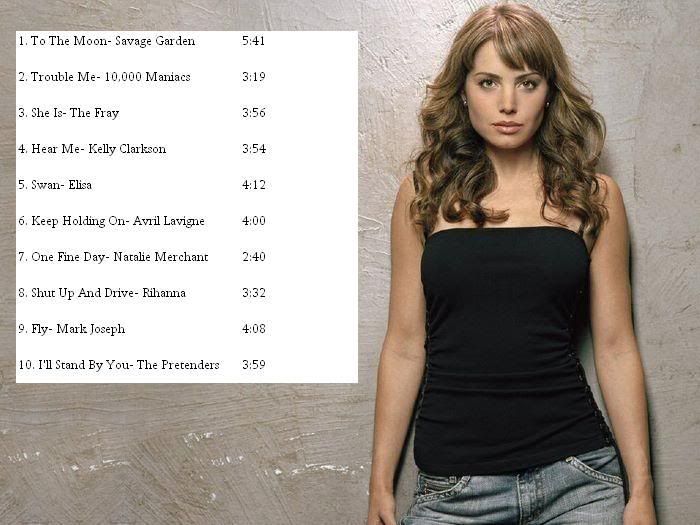 1.
To The Moon And Back
- Savage Garden
Shes taking her time making up
The reasons
To justify all the hurt inside
Guess she knows from the smile
And the look in their eyes
Everyones got a theory about the
Bitter one
They're saying mamma never loved
Her much
And daddy never keeps in touch
Thats why she shies away from
Human affection
But somewhere in a private place
She packs her bags for outer space
And now shes waiting for the right
Kind of pilot to come
And shell say to him
She's saying

I would fly to the moon and back if
You'll be
If you'll be my baby
Got a ticket for a world where we
Belong
So would you be my baby
2.
Trouble Me
- 10,000 Maniacs
Speak to me, don't mislead me, the calm I feel means a storm is swelling;
there's no telling where it starts or how it ends.
Speak to me, why are you building this thick brick wall to defend me
when your silence is my greatest fear?
Why let your shoulders bend underneath this burden
when my back is sturdy and strong?
Speak to me.

Let me have a look inside these eyes while I'm learning.
Please don't hide them just because of tears.
Let me send you off to sleep with a
"There, there, now stop your turning and tossing."
Let me know where the hurt is and how to heal.
3.
She Is
- The Fray

It's all up in the air and we stand still to see what comes down
I don't know where it is, I don't know when, but I want you around
When it falls into place with you and I, we go from if to when
Your side and mine are both behind it's indication

This is gonna bring me clarity
This'll take the heart right out of me

She is everything I need that I never knew I wanted
She is everything I want that I never knew I needed
4.
Hear Me
- Kelly Clarkson

I used to be scared of
Letting someone in
But it gets so lonely
Being on my own
No one to talk to
And no one to hold me
I'm not always strong
Oh, I need you here
Are you listening?

Hear me
I'm cryin' out
I'm ready now
Turn my world upside down
Find me
I'm lost inside the crowd
It's getting loud
I need you to see
I'm screaming for you to please
Hear me
5.
Swan
- Elisa

Walking by yourself in the cold, cold winter
Wrapped up in your coat like
It's a magic blanket
(no matter)
You say no matter where I go
They all look like strangers
You see the world only seems
The fairytale that it isn't

Dream on, dream on
There's nothing wrong
If you dream on, dream on
Of being a swan
But I know you're thinking
6.
Keep Holding On
- Avril Lavigne
You're not alone
Together we stand
I'll be by your side, you know I'll take your hand
When it gets cold
And it feels like the end
There's no place to go
You know I won't give in
No I won't give in

Keep holding on
'Cause you know we'll make it through, we'll make it through
Just stay strong
'Cause you know I'm here for you, I'm here for you
There's nothing you could say
Nothing you could do
There's no other way when it comes to the truth
So keep holding on
'Cause you know we'll make it through, we'll make it through
7.
One Fine Day
- Natalie Merchant
One fine day, you´ll look at me
And you will know our love was, meant to be
One fine day, you´re gonna want me for your girl

The arms I long for, will open wide
And you´ll be proud to have me, right by your side
One fine day, you´re gonna want me for your girl

8.
Shut Up And Drive
- Rihanna

Get you where you wanna go, if you know what I mean.
Got a ride that´s smoother than a limousine.
Can you handle the curves, can you run all the lights?
If you can baby boy, than we can go all night.
Cause it´s zero to sixty in three point five
Baby you got the keys.
Now shut up and drive, drive, drive.
Shut up and drive
9.
Fly
- Mark Joseph
Did we jump the gun
Cos you've come undone
And I know you'll need more than a friend
You're going underground
Well, it's not allowed
Now I suppose that I'll be back again
Take you back again
I'll be back again
10.
I'll Stand By You
- The Pretenders
Oh, why you look so sad?
Tears are in your eyes
Come on and come to me now
Don't be ashamed to cry
Let me see you through
cause Ive seen the dark side too
When the night falls on you
You don't know what to do
Nothing you confess
Could make me love you less

I'll stand by you
I'll stand by you
Wont let nobody hurt you
I'll stand by you

So if you're mad, get mad
Don't hold it all inside
Come on and talk to me now
Hey, what you got to hide?
I get angry too
Well I'm a lot like you
When you;re standing at the crossroads
And don't know which path to choose
Let me come along
cause even if you're wrong