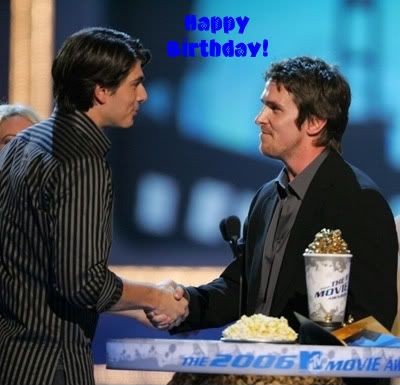 I hope you have a great day! :)
This one is a belated birthday fic for
shopfront
! I hope you enjoy it! :)
Title:
Holding Out For The Best
Fandom:
Smallville/Nolan!verse Batman
Pairing/Characters:
Clark/Oliver, Lois/Bruce
Rating:
PG
Disclaimer:
I don't own anything
Warnings:
slash
Word Count:
5,362
Spoilers:
none
Summary:
Lois is sick of Clark being alone so she decides to try and set him up.
Author's Notes:
thanks to the lovely
boltgirl426
for the beta and coming up with the title!
(
Collapse
)
I have a few fun things for you to check out!
First of all, the amazing
supercaptain182
is organizing a Smallville Big Bang. I wasn't there for the last one but I'm really excited about this one! She's posted the
dates at her journal
. So mark your calenders, guys and I'll definitely be updating you as I find out more info! :D
I found this out through
cifan70
. It's March Madness for the college basketball fans but
typicrobots
is running a 'Fandom Steel Cage Match March Madness' where you vote for your favorite characters and the ones with the highest numbers keep moving on to the next round. SV is on there, as is so many other fandoms! The first poll closes on March 5th, 1-2 PM EST so go get your votes in!
And lastly:
i ship it // my thread
You leave your username and people tell you who they ship you with. Remember, if you want to respond to someone, respond to the
comment
. Only hit the "post new comment" at the top/bottom of the post if you want to play yourself. :D