Now it's Day 16 of the SV Meme!
Day 16- Best Villain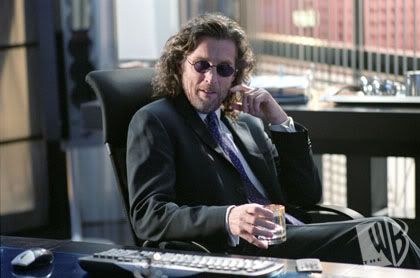 We've had a lot of good villains in Smallville (I often think of Marsters' Brainiac), but there's a reason we call Lionel Luthor the Magnificent Bastard. John Glover did evil so well. And you can talk about how he changed, but even in the middle of season 7, he kidnapped Clark out of his own home and threw him in a kryptonite cage just to save his own ass. He was a terrible father to Lex, playing mind games on his own son. Not only did he kill his own parents for the insurance money, but he killed his own parents. I always knew that Lex would be the one to kill him, but considering how he treated him, he should've seen it coming.
Day 01- Favorite CharacterDay 02- Least Favorite CharacterDay 03- Favorite EpisodeDay 04- Episode You HatedDay 05- Favorite SeasonDay 06- Favorite Canon ShipDay 07- Favorite Fanon ShipDay 08- Favorite Fight SceneDay 09- Most Heroic Moment/SceneDay 10- Favorite Shelby SceneDay 11- Favorite story arcDay 12- Best ClimaxDay 13- Most Emotional SceneDay 14- Worst Character DeathDay 15- Best comic book hero introduction to Smallville
Day 16- Best Villain
Day 17- Worst Villain
Day 18- Best Friendship
Day 19- Funniest Moment
Day 20- OMG WTF?! Moment
Day 21- Your guilty pleasure ship
Day 22- Best Quote
Day 23- Favorite minor character (i.e. only been in 1-3 episode)
Day 24- Favorite mythos moment
Day 25- Something you think Smallville did better than comics canon
Day 26- Scene that was the most aesthetically pleasing/prettiest
Day 27- Favorite hospital scene
Day 28- Favorite music montage
Day 29- favorite Superman franchise actors who have guest-starred (Christopher Reeve, Helen Slater, Dean Cain etc.)
Day 30- Memory of your first time watching Smallville
Other potential replacements:
- favorite end montage
- favorite "someone looking at two people from the outside" scene
- favorite Superman quote used in the show
- favorite use of the S shield (to narrow it down, you might want to discount the Blur costume and all the calling cards in S9)
- favorite Clark save
- worst parent on the show ever
- favorite El/Kryptonian other than Clark
- scenes and shots that you think best represent and focused on Smallville as the hometown of a future Superman
- favorite reveal of The Secret
- favorite performance/scene of a character getting possessed
- Least favorite Plot (story arc)
- Craziest plot/episode/scene
- Strangest/Weirdest Villian/Character
- Character that died too soon
- Character that should've died sooner
- Most annoying character
Current Mood:
calm