And another day with the SV Meme! Just so you know, I'm totally starting a 30 Day Female Character Meme soon. I got it from
sunnytyler001. :D

Day 23- Favorite minor character (i.e. only been in 1-3 episode)

There have been quite a few guest characters that I liked, like Maddie, in 'Fragile'. Clark with kids is always great. Which is actually how I ended up deciding.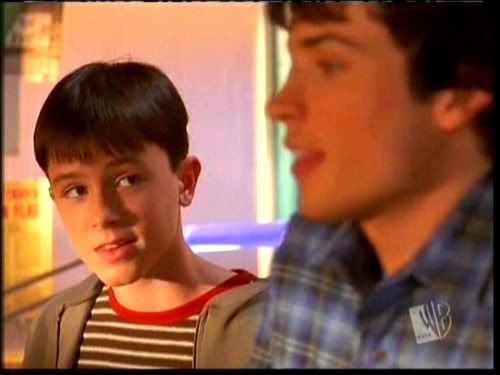 Ryan! His death broke my heart, as well as Clark's. I loved him in the episodes he was in, and I liked the bond between him and Clark.

Day 01- Favorite Character
Day 02- Least Favorite Character
Day 03- Favorite Episode
Day 04- Episode You Hated
Day 05- Favorite Season
Day 06- Favorite Canon Ship
Day 07- Favorite Fanon Ship
Day 08- Favorite Fight Scene
Day 09- Most Heroic Moment/Scene
Day 10- Favorite Shelby Scene
Day 11- Favorite story arc
Day 12- Best Climax
Day 13- Most Emotional Scene
Day 14- Worst Character Death
Day 15- Best comic book hero introduction to Smallville
Day 16- Best Villain
Day 17- Worst Villain
Day 18- Best Friendship
Day 19- Funniest Moment
Day 20- OMG WTF?! Moment
Day 21- Your guilty pleasure ship
Day 22- Best Quote
Day 23- Favorite minor character (i.e. only been in 1-3 episode)
Day 24- Favorite mythos moment
Day 25- Something you think Smallville did better than comics canon
Day 26- Scene that was the most aesthetically pleasing/prettiest
Day 27- Favorite hospital scene
Day 28- Favorite music montage
Day 29- favorite Superman franchise actors who have guest-starred (Christopher Reeve, Helen Slater, Dean Cain etc.)
Day 30- Memory of your first time watching Smallville

Other potential replacements:
- favorite end montage
- favorite "someone looking at two people from the outside" scene
- favorite Superman quote used in the show
- favorite use of the S shield (to narrow it down, you might want to discount the Blur costume and all the calling cards in S9)
- favorite Clark save
- worst parent on the show ever
- favorite El/Kryptonian other than Clark
- scenes and shots that you think best represent and focused on Smallville as the hometown of a future Superman
- favorite reveal of The Secret
- favorite performance/scene of a character getting possessed
- Least favorite Plot (story arc)
- Craziest plot/episode/scene
- Strangest/Weirdest Villian/Character
- Character that died too soon
- Character that should've died sooner
- Most annoying character