Day 4 of the female character meme! I'm really enjoying this. :)
Day 4:
Chandramukhi (Devdas)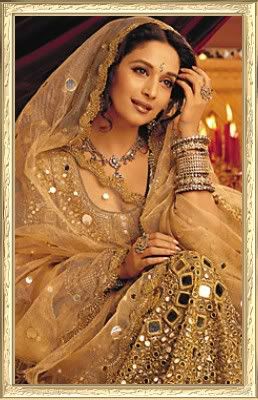 Devdas is a Bollywood movie, and Chandramukhi is played by Madhuri Dixit (who I adore). She's a courtesan, but just an awesome character. Truth be told, I prefer her to Paro. I felt that Chandramukhi loved Devdas more, and I just wished throughout the film that he'd forget Paro and fall for her. I knew it was supposed to be a tragedy, but I felt so bad for her. She was kind, caring, and was really strong. No matter how much I love Shahrukh, she's my favorite character in the movie.
Day 1: Princess Jasmine (Aladdin)Day 2: Lois Lane (Smallville)Day 3: Abby Sciuto (NCIS)
Day 4: Chandramukhi (Devdas)
Day 5:
Day 6:
Day 7:
Day 8:
Day 9:
Day 10:
Day 11:
Day 12:
Day 13:
Day 14:
Day 15:
Day 16:
Day 17:
Day 18:
Day 19:
Day 20:
Day 21:
Day 22:
Day 23:
Day 24:
Day 25:
Day 26:
Day 27:
Day 28:
Day 29:
Day 30:
Current Mood:
okay