Title: Keeps Getting Better
Fandom: Smallville
Pairing/Characters: Lois Lane
Medium: Fanmix
Spoilers/Warnings: none/none
Disclaimer: all characters belong to CW/DC Comics and the music to the respective artists
Notes: for the
scifiland's Big Bang Challenge.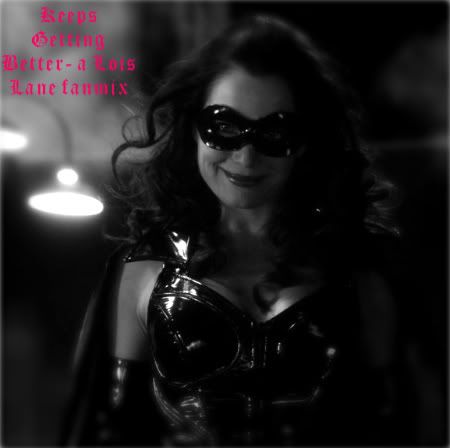 1. "Swan"- Elisa
But I know you're thinking:
"Am I gonna make it through?"
Dream on, dream on (and you can't run away)
There's nothing wrong (you've got to find a way to make it through this mess)
If you dream on, dream on ('cause you can't run away)
Of being a swan (you've got to find a way, a way out of this mess)

2. "Hear Me"- Kelly Clarkson
I used to be scared of
Letting someone in
But it gets so lonely
Being on my own
No one to talk to
And no one to hold me
I'm not always strong

3. "Say It Right"- Nelly Furtado
I can't say that I'm not lost and at fault
I can't say that I don't love the light and the dark
I can't say that I don't know that I am alive
And all of what I feel I could show
You tonight

4. "Circus"- Britney Spears
There's only two types of people in the world
The ones that entertain, and the ones that observe
Well baby I'm a put-on-a-show kinda girl
Don't like the backseat, gotta be first (oh, oh)
I'm like the ringleader
I call the shots (call the shots)
I'm like a firecracker
I make it hot (make it hot)
When I put on a show

5. "Stand in the Rain"- Superchick
She never slows down
She doesn't know why but
she knows that when
She's all alone
Feels like it's all coming down
She won't turn around
The shadows are long
And she fears if she cries
That first tear
The tears will not stop
Raining down

6. "Bitch"- Meredith Brooks
So take me as I am
This may mean you'll have to be a stronger man
Rest assured that when I start to make you nervous
and I'm going to extremes
tomorrow I will change
and today won't mean a thing

7. "To The Moon and Back"- Savage Garden
She can't remember a time when she felt needed
If love was red then she was color blind
All her friends, well they've been trialed for treason
And crimes that were never defined
She's saying, "Love is like a barren place,
And reaching out for human faith
It's like a journey I just don't have a map for"

8. "Keeps Getting Better"- Christina Aguilera
Some days I'm a super bitch
Up to my old tricks
but it wont last forever
Next day I'm your super girl
Out to save the world
and it keeps getting better

.zip file here

Comment, Take, Enjoy! If there are any problems with the links, please let me know and I'll fix it.