Title: Two Paths Diverge
Fandom: Smallville
Pairing/Characters: Clark/Lana
Medium: Fanmix
Spoilers/Warnings: none/none
Disclaimer: all characters belong to CW/DC Comics and the music to the respective artists
Notes: for the
scifiland's Big Bang Challenge.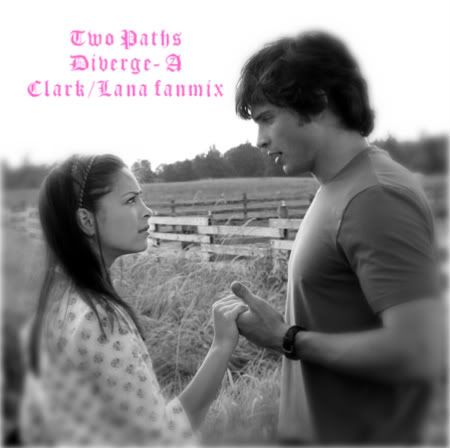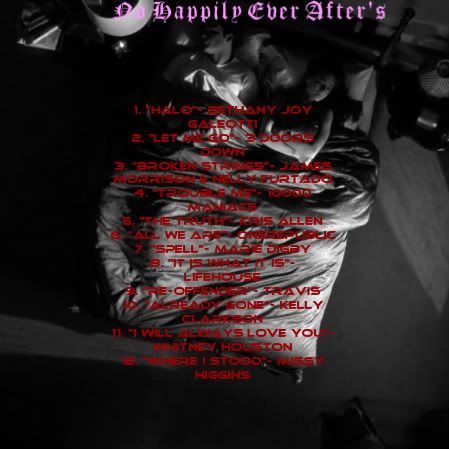 1. "Halo"- Bethany Joy Galeotti
Why do you put me on a pedestal?
I'm so up high that I can't see the ground below
So help me down you've got it wrong
I don't belong there
One thing is clear
I wear a halo
I wear a halo when you look at me
But standing from here
You wouldn't say so
You wouldn't say so if you were me
And I, I just want to love you

2. "Let Me Go"- 3 Doors Down
In my head there's only you now
This world falls on me
In this world there's real and make believe
And this seems real to me
And you love me but you don't know who I am
I'm torn between this life I lead and where I stand
And you love me but you don't know who I am
So let me go, let me go

3. "Broken Strings"- James Morrison & Nelly Furtado
Oh it tears me up
I try to hold on, but it hurts too much
I try to forgive, but it's not enough to make it all okay
You can't play on broken strings
You can't feel anything that your heart don't want to feel
I can't tell something that ain't real
Well the truth hurts,
And lies worse
How can I give anymore
When I love you a little less than before

4. "Trouble Me"- 10000 Maniacs
Speak to me, don't mislead me,
The calm I feel means a storm is swelling;
There's no telling where it starts or how it ends.
Speak to me, why are you building this thick brick wall to defend me when your silence is my greatest fear?
Why let your shoulders bend underneath this burden when my back is sturdy and strong?
Speak to me.

5. "The Truth"- Kris Allen
Trying to be perfect
Trying not to let you down
Honesty is honestly
The hardest thing for me right now
While the floors underneath our feet
Are crumbling, the walls we built together tumbling
I still stand here holding up the roof
Cause it's easier than telling the truth

6. "All We Are"- OneRepublic
I tried to paint you a picture, the colors were all wrong
Black and white didn't fit you and all along,
you were shaded with patience, your strokes of everything
That I need just to make it, and I can see that...
Lord knows I've failed you, time and again

7. "Spell"- Marie Digby
I have you
For a moment I can tell I've got you
Cause your lips don't move
And something is happening
Cause your eyes tell me the truth
I've put a spell over you.

8. "It Is What It Is"- Lifehouse
Too long we've been denying
Now we're both tired of trying
We hit a wall and we can't get over it
Nothing to relive
It's water under the bridge
You said it, I get it
I guess it is what it is

9. "Re-Offender"- Travis
But I'm fooling myself
I'm fooling myself
Cause you say you love me
And then you do it again, you do it again
You say you're sorry's
And then you do it again, you do it again

10. "Already Gone"- Kelly Clarkson
I want you to know
That it doesn't matter
Where we take this road
But someone's gotta go
And I want you to know
You couldn't have loved me better
But I want you to move on
So I'm already gone

11. "I Will Always Love You"- Whitney Houston
If I should stay,
I would only be in your way.
So I'll go, but I know
I'll think of you every step of the way.
And I will always love you.
I will always love you.

12. "Where I Stood"- Missy Higgins
'Cos I don't know who I am, who I am without you
All I know is that I should
And I don't know if I could stand another hand upon you
All I know is that I should
'Cos she will love you more than I could
She who dares to stand where I stood

.zip file here

Comment, Take, Enjoy! If there are any problems with the links, please let me know and I'll fix it.