Title: Destiny Awaits
Fandom: Star Trek XI
Pairing/Characters: Kirk/Spock
Medium: Fanmix
Spoilers/Warnings: none/slash
Disclaimer: all characters belong to JJ Abrams and the music to their respective artists
Notes: for the
scifiland's Big Bang Challenge.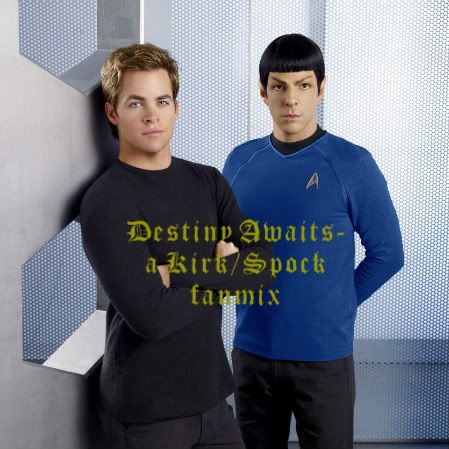 1. "Radar"- Britney Spears
Think I can handle that
Animal in the sack
His eyes see right to my soul
I saw and lose self-control
Catch me looking again
Falling right into my plan

2. "Poker Face"- Lady GaGa
I want to roll with him
A hard pair we will be
A little gambling is fun when you're with me
(I love it)
Russian roulette is not the same without a gun
And baby when it's love if it not rough it isn't fun

3. "I Do Not Hook Up"- Kelly Clarkson
Just give up the game and get into me
If you're looking for thrills
Then get cold feet
Oh, no
I do not hook up

4. "I Want You"- Savage Garden
Come stand a little bit closer
Breath in and get a bit higher
You'll never know what hit you
When I get to you
Oooh I want you
I don't know if I need you but
Ooh I gotta find out

5. "Something There"- Beauty & the Beast
There's something sweet and almost kind
But he was mean and he was coarse and unrefined
But now he's dear and so unsure
I wonder why I didn't see it there before

6. "Chemicals React"- Aly & AJ
Were you right, was I wrong
Were you weak, was I strong
Both of us broken, caught in a moment
We lived and we loved
And we hurt and we joked
But the planets all aligned
When you looked into my eyes
And just like that, the chemicals react

7. "We Are One"- Westlife
Two very different people
Too scared to get along
Till two hearts beat together underneath one sun
One very special moment can turn a destiny
And what some would say could never change
Has changed for you and me

8. "Beating My Heart"- Jon McLaughlin
This whole world will take me down
Without you standing by my side (my side)
You're holding onto me
You're making everything inside me come alive

9. "Natural"- S Club 7
Loving you is not just luck or illusion
It's in the make up of our DNA
It's not my chance we make the perfect solution
Don't fight it baby
You know that it's just destiny's way

10. "We Belong Together"- Gavin DeGraw
We belong together
Like the open seas and shores
Wedded by the planet force
We've all been spoken for

.zip file here

Comment, Take, Enjoy! If there is a problem with any of the links, feel free to let me know and I'll fix it.