Title: All About Us
Fandom: Smallville
Pairing/Characters: Chloe & Lois
Medium: Fanmix
Spoilers/Warnings: none/none
Disclaimer: all characters belong to CW/DC Comics and the music to the respective artists
Notes: for the
femslash_land's Big Bang Challenge.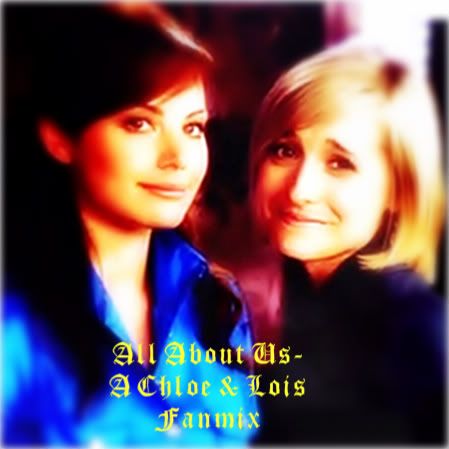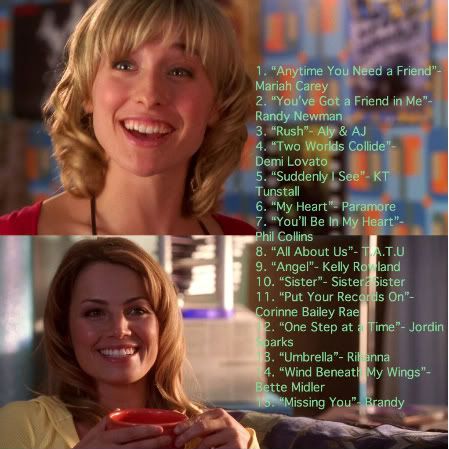 1. "Anytime You Need a Friend"- Mariah Carey
When you're sad,
When you're feeling low
When you're hurt and don't know where to go.
Think of me-
There I'll be,
Anytime you need a friend.

2. "You've Got a Friend in Me"- Randy Newman
You've got a friend in me
You've got a friend in me
If you got troubles
I got them too
There isn't anything
I wouldn't do for you
We stick together, we can see it through
Cause you've got a friend in me
Yeah, you've got a friend in me

3. "Rush"- Aly & AJ
Don't let nobody tell you, your life is over,
Be every color that you are,
Into the rush now,
You don't have to know how,
Know it all before you try.

4. "Two Worlds Collide"- Demi Lovato
She was scared, unprepared
And lost in the dark, falling apart
I can survive with you by my side
We're gonna be alright
(We're gonna be alright)
This is what happens when two worlds collide

5. "Suddenly I See"- KT Tunstall
And she's taller than most
And she's looking at me
I can see her eyes looking from a page in a magazine
Oh she makes me feel like I could be a tower
A big strong tower
She got the power to be
The power to give
The power to see

6. "My Heart"- Paramore
I am finding out that maybe I was wrong
That I've fallen down and I can't do this alone
Stay with me, this is what I need, please?
Sing us a song and we'll sing it back to you
We could sing our own but what would it be without you?

7. "You'll Be In My Heart"- Phil Collins
For one so small,
you seem so strong
My arms will hold you,
keep you safe and warm
This bond between us
Can't be broken
I will be here
Don't you cry

8. "All About Us"- T.A.T.U
It's all about us (all about us)
It's all about
All about us (all about us)
There's a thing that they can't touch
'Cause ya know (ah ah)
It's all about us (all about us)

9. "Angel"- Kelly Rowland
You are my best friend, and I love you.
You were always there to love me when I didn't even love myself.
You bring out the best in me, and I thank you.
Thank you for my life, thank you for your advice, your wisdom and your strength.

10. "Sister"- Sister2Sister (YouTube link; couldn't find the song)
Closer than my closest friend
Someone who will be there til the end
My sister, sister
Deeper than the deepest sea
No-one loves you like your family
My sister, sister

11. "Put Your Records On"- Corinne Bailey Rae
Girl, put your records on, tell me your favourite song
You go ahead, let your hair down
Sapphire and faded jeans, I hope you get your dreams,
Just go ahead, let your hair down.
You're gonna find yourself somewhere, somehow.

12. "One Step at a Time"- Jordin Sparks
We live and we learn to take
One step at a time
There's no need to rush
It's like learning to fly
Or falling in love
It's gonna happen when it's
Supposed to happen and we
Find the reasons why
One step at a time

13. "Umbrella"- Rihanna
When the sun shines, we'll shine together
Told you I'll be here forever
Said I'll always be a friend
Took an oath I'ma stick it out till the end
Now that it's raining more than ever
Know that we'll still have each other
You can stand under my umbrella

14. "Wind Beneath My Wings"- Bette Midler
So I was the one with all the glory,
while you were the one with all the strength.
A beautiful face without a name for so long.
A beautiful smile to hide the pain.
Did you ever know that you're my hero,
and everything I would like to be?
I can fly higher than an eagle,
'cause you are the wind beneath my wings.

15. "Missing You"- Brandy
Though I'm missing you
(Although I'm missing you)
I'll find away to get through
(I'll find away to get through)
Living without you
Cause you were my sister, my strength, and my pride
Only god may know why, still I will get by

.zip file here

Comment, Take, Enjoy! If there is a problem with any of the links, let me know and I will fix them.