It's Day 28 of my 30 Day Multi Fandom Meme.

Day 28: A pairing people would be surprised you like

Outside of Smallville, I don't think I really talk about my ships. I know people always seem surprised when they find out I ship Harry/Draco from Harry Potter. This time I'm going with a pairing/show that I don't talk about much but I do ship: Brooke/Rachel (One Tree Hill).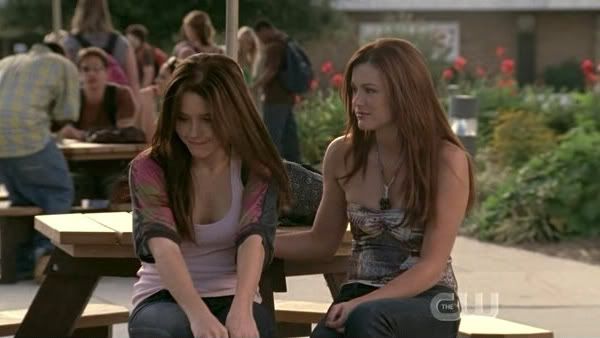 I don't talk about f/f ships, much less ones in One Tree Hill. The ones I do talk about are probably Naley and Brucas, but I also have a soft spot for Brooke/Rachel. NGL, Rachel was the character I loved to hate and I definitely wasn't a fan when she tried to go after Nathan in s4, but she grew on me because of Brooke. Their relationship was interesting, to say the least. I love how said relationship developed from s3 onwards, and how Rachel actually became a really good friend to Brooke (I know things happened in later seasons but I'm ignoring that because I didn't see it). They have a lot of chemistry and would definitely be hot together.

It's a shame there isn't much fic out there. I saw a fun vid on YT, which is set to the song "Girlfriend" by Avril Lavigne. It has a Peyton/Brooke/Rachel triangle and is set in Rachel's POV. If you're interested, check it out here. Also, if any people ship this awesome pairing and have recs, I would appreciate them.

01. Favorite het pairing
02. Favorite yaoi/slash pairing
03. Favorite yuri/femslash pairing
04. Favorite sibling relationship
05. Favorite friendship
06. Favorite parent—child relationship
07. Favorite rivals relationship
08. Favorite partners in crime relationship
09. Favorite family unit (four or more people)
10. Least favorite pairing
11. An "OT3" or threesome
12. Favorite Person and Animal Companion Relationship
13. Your first pairing
14. Your most recent pairing
15. Favorite non-canon pairing
16. Pairing with the best chemistry
17. Favorite canon pairing
18. Favorite nakama/group of friends (four or more people)
19. Favorite band of villains
20. A pairing you like, but don't like what canon did/is doing with them
21. A pairing you think gets too little attention
22. A pairing that a lot of people ship, but you don't
>23. An unpopular pairing that you like>
24. A pairing you think is actually together behind-the-scenes, but it's not confirmed in canon
25. A pairing that you have grown to like but didn't at first
26. Favorite childhood pairing
27. Pairing you think is the most adorable
28. A pairing people would be surprised you like
29. Your favorite of all the relationships you've posted so far
30. Free choice