Title: The Special Two
Fandom: One Tree Hill
Pairing/Characters: Brooke/Peyton
Medium: Fanmix
Spoilers/Warnings: none/femslash
Disclaimer: all characters belong to CW/Mark Schwann and the music to their respective artists
A/N: for
femslash_land's fanmix challenge.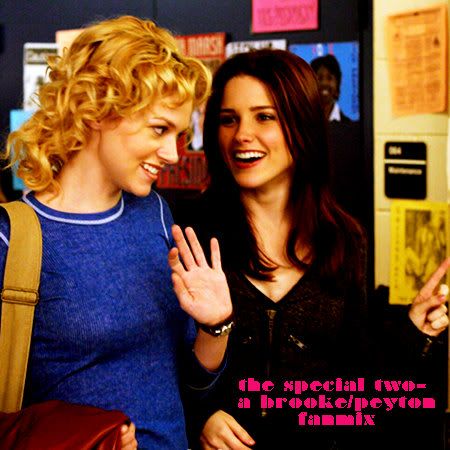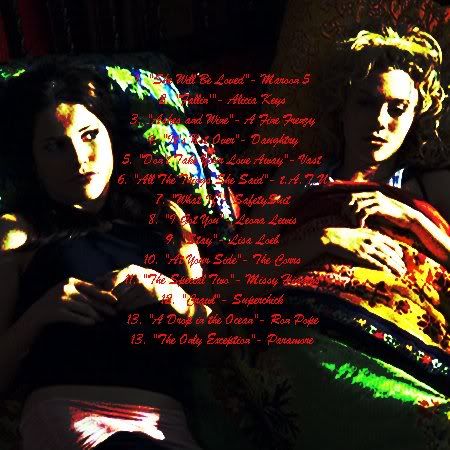 1. "She Will Be Loved"- Maroon 5
Tap on my window knock on my door
I want to make you feel beautiful
I know I tend to get so insecure
It doesn't matter anymore

2. "Fallin"- Alicia Keys
I keep on fallin'... in and out of love with you
Sometimes I love ya, uhh, sometimes you make me blue
Sometimes I feel good,
At times I feel used
Lovin' you darlin', makes me so confused

3. "Ashes and Wine"- A Fine Frenzy
Is there a chance?
A fragment of light at the end of the tunnel?
A reason to fight?
Is there a chance you may change your mind?
Or are we ashes and wine?

4. "It's Not Over"- Daughtry
Let's start over.
I'll try to do it right this time around.
It's not over.
'Cause a part of me is dead and in the ground.
This love is killing me,
But you're the only one.
It's not over.

5. "Don't Take Your Love Away"- Vast
I am looking for an inspiration
And I think I found it in your heart
It's the kind of thing you get when you're not looking
It's the kind of thing you had from the start

6. "All The Things She Said"- t.A.t.U
I keep asking myself, wondering how
I keep closing my eyes but I can't block you out
Wanna fly to a place where it's just you and me
Nobody else so we can be free

7. "What If"- SafetySuit
What if what I want makes you sad at me?
And is it all my fault or can I fix it please?
Cause you know that I'm always all for you
Cause you know that I'm always all for you

8. "I Got You"- Leona Lewis
What's weird about it
Is we're right at the end
And mad about it
Just figured it out in my head
I'm proud to say
I got you

9. "Stay"- Lisa Loeb
And I thought what I felt was simple,
And I thought that I don't belong,
And now that I am leaving,
Now I know that I did something wrong 'cause I missed you.
Yeah, I missed you.

10. "At Your Side"- The Corrs
I'll be at your side
There's no need to worry
Together, we'll survive
Through the haste & hurry
I'll be at your side, if you feel like you're alone
And you've nowhere to turn
I'll be at your side

11. "The Special Two"- Missy Higgins
And we will only need each other, we'll breathe together,
Our hands will not be taught to hold another's,
When we're the special two.
And we could only see each other, we'll bleed together,
These arms will not be taught to need another,
'Cause we were the special two

12. "Crawl"- Superchick
And if I have to crawl
Will you crawl too
I stumble and I fall
Carry me through
The wonder of it all
Is you
See me through

13. "A Drop in the Ocean"- Ron Pope
It's just a drop in the ocean
A change in the weather
I was prayin that you and me might end up together
It's like wishing for rain as I stand in the desert
But I'm holding you closer than most
Cause you are my heaven

14. "The Only Exception"- Paramore
And I've always lived like this
keeping a comfortable distance.
And up until now I've sworn to myself
that I'm content with loneliness.
Because none of it was ever worth the risk
Well you are the only exception.

.zip file here

Comment, Take, Enjoy! If there's a problem with any of the files, let me know and I'll fix it.