Title: Answering Destiny's Call
Fandom: Smallville
Pairing/Characters: Clark/Lois
Medium: Fanmix
Spoilers/Warnings: none/none
Disclaimer: all characters belong to CW/DC Comics and the music to their respective artists
A/N: for
cw_land's "Big Bang" Challenge, prompt: 'together'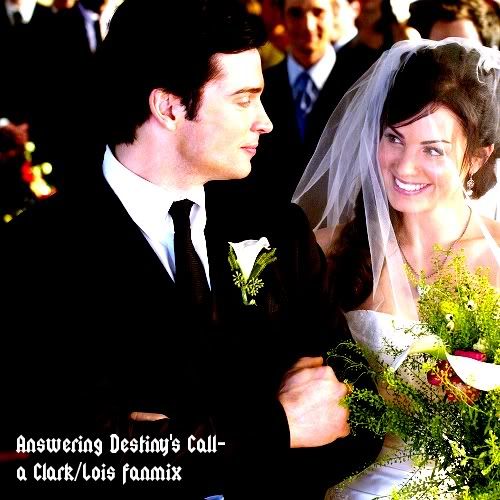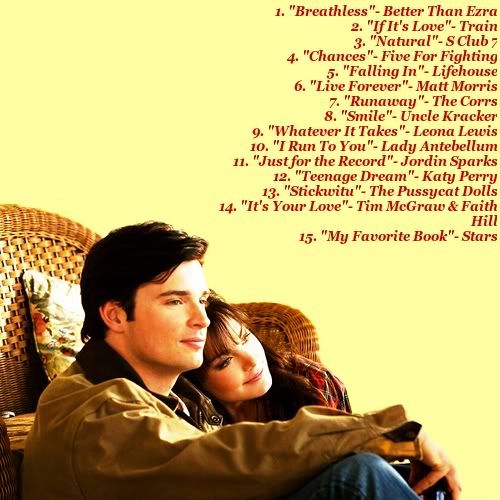 1. "Breathless"- Better Than Ezra
That when you feel the world is crashing
All around your feet
Come running headlong into my arms
Breathless
I'll never judge you
I can only love you
Come now running headlong
Into my arms
Breathless

2. "If It's Love"- Train
And if I'm addicted to loving you
And you're addicted to my love too
We can be them two birds of a feather
That flock together

3. "Natural"- S Club 7
Loving you is not just luck or illusion
It's in the make-up of our DNA
It's not by chance we make the perfect solution
Don't fight it baby,
You know that it's just destiny's way

4. "Chances"- Five For Fighting
Don't get me wrong
I'd never say never
Cause though love can change the weather
No act of God can pull me away from you
I'm just a realistic man
A bottle filled with shells and sand
Afraid to love beyond what I can lose when it comes to you
And though I see us through

5. "Falling In"- Lifehouse
Won't be easy,
Have my doubts too
But it's over,
Without you, I'm just lost, incomplete
Yeah you feel like home, home to me

6. "Live Forever"- Matt Morris
Cause we're looking for the way to make this better
Looking for a way to change the weather,
Whether you or I survive tonight
I promise you that I will love you like we're gonna live forever

7. "Runaway"- The Corrs
Cause I am falling in love (falling in love) with you
No never I'm never gonna stop
Falling in love with you
With you

8. "Smile"- Uncle Kracker
Don't know how I lived without you
'Cuz every time that I get around you
I see the best of me inside your eyes
You make me smile

9. "Whatever It Takes"- Leona Lewis
Wherever it is, I'll fly
Whatever it takes, I'll try
So don't pay no mind
To what other people say
Whenever it is in my life
Know that I will be on time
'Cause you know why
There's no standing in our way

10. "I Run To You"- Lady Antebellum
This world keeps spinning faster
Into a new disaster so I run to you
I run to you baby
And when it all starts coming undone
Baby you're the only one I run to
I run to you

11. "Just For the Record"- Jordin Sparks
I can't be perfect
No one is flawless
But rest in mind
I'll be there through the good and the bad and the ugly and worse
So if it's something that you're lacking
Go and tell me first

12. "Teenage Dream"- Katy Perry
You think I'm pretty
Without any makeup on
You think I'm funny
When I tell the punchline wrong
I know you get me
So I let my walls come down

13. "Stickwitu"- The Pussycat Dolls
Nobody gonna love me better
I must stick with you forever.
Nobody gonna take me higher
I must stick with you.
You know how to appreciate me
I must stick with you, my baby.
Nobody ever made me feel this way
I must stick with you

14. "It's Your Love"- Tim McGraw & Faith Hill
Better than I was, more than I am
And all of this happened by taking your hand
And who I am now is who I wanted to be
And now that we're together,
I'm stronger than ever
I'm happy and free

15. "My Favorite Book"- Stars
When the days are long, and the thunder with the storm can always get me crying
You can make my bed,
I'll fall into it, shattered but not lonely
Because I never knew a home, until I found your hands, when I'm weathered
You come to me, you're my best friend
And that is why we'll always make it

.zip file here

Comment, Take, Enjoy! Please let me know if there is a problem with any of the links and I will fix it.