Title: Fall to Pieces
Fandom: Smallville
Pairing/Characters: Lex/Lana
Medium: Fanmix
Spoilers/Warnings: none/none
Disclaimer: all characters belong to CW/DC Comics and the music to their respective artists
A/N: for
scifiland's "Big Bang" Challenge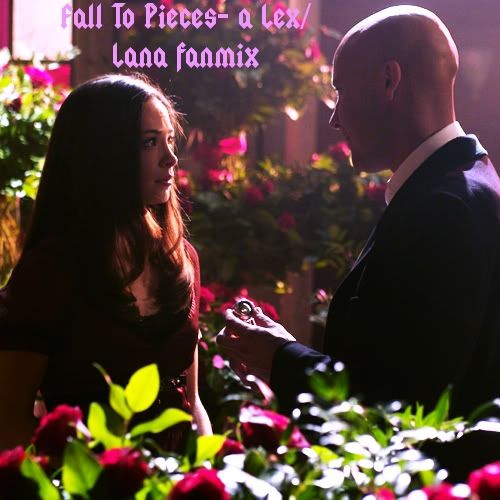 1. "Temporary Insanity"- Alexz Johnson
What just happened?
Did you kiss me?
Cause that's a place we've never been until now
And I don't know how it's gonna be after this
Do we pretend these feelings don't exist at all
Or do we fall?

2. "Patience"- Take That
Just have a little patience
I'm still hurting from a love I lost
I'm feeling your frustration
Any minute all the pain will stop.
Just hold me close inside your arms tonight
Don't be too hard on my emotions

3. "Fall to Pieces"- Avril Lavigne
And I don't wanna fall to pieces
I just want to sit and stare at you
I don't want to talk about it
And I don't want a conversation
I just want to cry in front of you
I don't want to talk about it
Cuz I'm in love with you

4. "No Other Love"- John Legend ft Estelle
I had my share of lovers
But there is no other girl,
You're special, now let's go
Cause now I want you more than ever,
Want to do whatever now
To keep you, I need you

5. "My Skin"- Natalie Merchant
You better shut your mouth
Hold your breath
Kiss me now
You'll catch your death
Oh, I mean it
Oh, I need this

6. "Everything You Want"- Vertical Horizon
I am everything you want
I am everything you need
I am everything inside of you
That you wish you could be
I say all the right things
At exactly the right time
But I mean nothing to you and I don't know why

7. "Wires"- Athlete
Running, down corridors through, automatic doors
Got to get to you, got to see this through
I see hope is here, in a plastic box
I've seen Christmas lights, reflect in your eyes
You got wires, going in
You got wires, coming out of your skin
There's dry blood, on your wrist
Your dry blood on my fingertip

8. "Now I'm Lost"- Vanessa Carlton
And now I'm lost
And now I run from you
And now I see
Just how I bleed from you
And all the lies, all the lies
How could I let you in
But now its clear
I went along for the ride

9. "Angels"- Within Temptations
Could have been forever
Now we have reached the end
This world may have failed you
It doesn't give the reason why
You could have chosen
A different path of life

10. "Rolling in the Deep"- Adele
I can't help feeling
We could have had it all
Rolling in the deep
(Tears are gonna fall, rolling in the deep)
You had my heart inside of your hand
(You're gonna wish you never had met me)
And you played it to the beat
(Tears are gonna fall, rolling in the deep)

.zip file here

Comment, Take, Enjoy! If there is a problem with any of the links, let me know and I will fix it.