Title: Ease My Pain
Fandom: Smallville
Pairing/Characters: Chloe/Davis
Medium: Fanmix
Spoilers/Warnings: none/none
Disclaimer: all characters belong to CW/DC Comics and the music to their respective artists
A/N: for
scifiland's "Big Bang" Challenge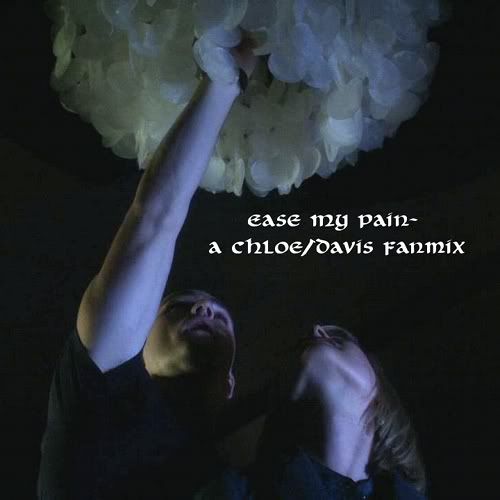 1. "Just So You Know"- Jesse McCartney
I shouldn't love you but I want to
I just can't turn away
I shouldn't see you but I can't move
I can't look away
And I don't know how to be fine when I'm not
'Cause I don't know how to make a feeling stop

2. "Dilemma"- Nelly & Kelly Roland
No matter what I do,
All I think about is you
Even when I'm with my boo,
Boy you know I'm crazy over you

3. "Ease My Pain"- Sub7even
You swallow my tears and heal my body,
You know how to ease my pain.
And when you see me again so broken-hearted,
Nothing will be in vain
I don't wanna lose you

4. "My Love"- Justin Timberlake ft TI
I can see us holding hands
Walking on the beach, our toes in the sand
I can see us on the countryside
Sitting on the grass, laying side by side
You could be my baby, let me make you my lady

5. "Casey's Song"- City and Colour
With you on my mind
And my heart held in your hands
Screaming
Break me

6. "Sway"- The Perishers
I don't wanna hurt you
I don't wanna make you sway
Like I know I've done before
I will not do it anymore
I've always been a dreamer
I've had my head among
the clouds
Now that I'm coming down
Won't you be my solid ground?

7. "Addicted"- Kelly Clarkson
It's like you're a drug
It's like you're a demon I can't face down
It's like I'm stuck
It's like I'm running from you all the time
And I know I let you have all the power
It's like the only company I seek is misery all around

8. "Breathing"- Lifehouse
I don't want a thing from you
Bet you're tired of me waiting
For the straps to fall
Off of your table to the ground
I just want to be here now

9. "#1 Crush"- Garbage
I would die for you
I would die for you
I've been dying just to feel you by my side
To know that you're mine

10. "Self Inflicted"- Katy Perry
I can't stop
Don't care if I lose
Baby you are the weapon I choose
These wounds are self inflicted
I'm going down in flames for you
Baby you are the weapon I choose
These wounds are self inflicted
One more thing I'm addicted too

.zip file here

Comment, Take, Enjoy! Let me know if there are any problems with the links and I will fix them.