Title: Another Heart Calls
Fandom: Gilmore Girls
Pairing/Characters: Rory/Jess
Medium: Fanmix
Spoilers/Warnings: none/none
Disclaimer: all characters belong to WB/CW and the music to their respective artists
A/N: for
cw_land's "End of the Season Free For All" Challenge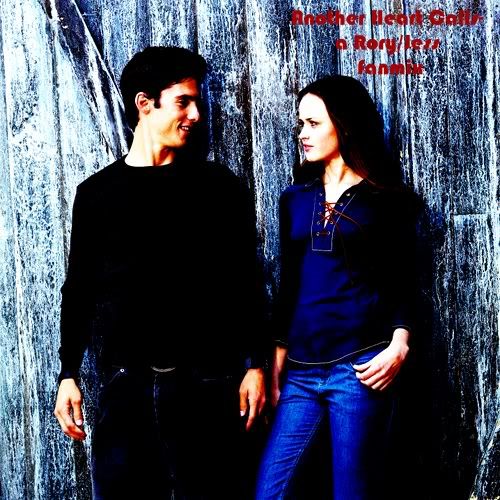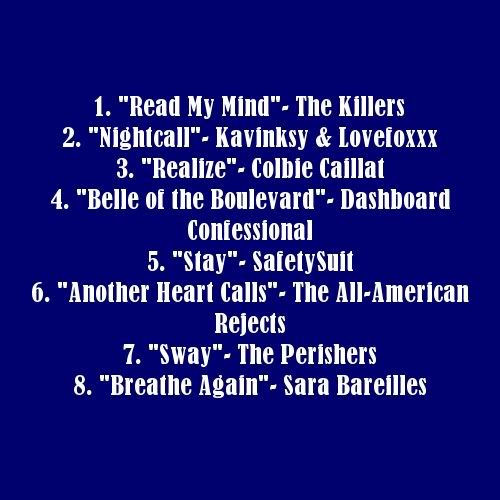 1. "Read My Mind"- The Killers
On the corner of main street
Just tryin' to keep it in line
You say you wanna move on and
You say I'm falling behind
Can you read my mind?

2. "Nightcall"- Kavinksy & Lovefoxxx
There's something inside you,
It's hard to explain.
They're talking about you boy,
But you still the same

3. "Realize"- Colbie Caillat
Take time to realize
Oh-oh I'm on your side
Didn't I, didn't I tell you
Take time to realize
This all can pass you by
But I can't spell it out for you,
No its never gonna be that simple

4. "Belle of the Boulevard"- Dashboard Confessional
Don't turn away
Dry your eyes, dry your eyes
Don't be afraid
Keep it all inside, all inside
When you fall apart
Dry your eyes, dry your eyes
Life is always hard for the belle of the boulevard

5. "Stay"- SafetySuit
Walking out the door this morning wondering what it is that's going on with you
Thinking of a way to say I'm sorry for something I'm not sure I do
So come on baby let me in and show me what this really is cause
Something must have made you say that,
What did I do to make you say that to me
Something must have made you so mad,
What can I do to make you say
Come back to me

6. "Another Heart Calls"- The All-American Rejects
Just as soon as I see you
But didn't I, but didn't I tell you
As deep as I need you,
You wanna leave it all
What can I do?
Say it's true
Or everything that matters breaks in two
Say it's true
I'll never ask for anyone but you

7. "Sway"- The Perishers
I don't wanna hurt you
I don't wanna make you sway
Like I know I've done before
I will not do it anymore

8. "Breathe Again"- Sara Bareilles
All I have,
All I need,
He's the air I would kill to breathe
Holds my love in his hands,
Still I'm searching for something
Out of breath, I am left hoping someday I'll breathe again
I'll breathe again

.zip file here

Comment, Take, Enjoy! If there is a problem with any of the links, feel free to let me know and I will fix it.